Sentinel Manager wins Strata Corporation Australia (Vic) Rising Star Manager of the Year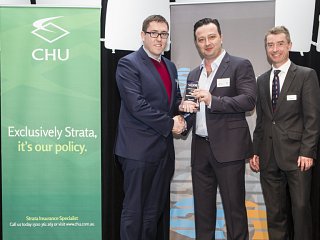 At the recent SCA (Vic) Awards night Aaron Healy was awarded Rising Star Strata Manager of the Year. Aaron joined Sentinel after 6 years in the Australian Army which included a tour of Afghanistan in 2012-13.
Aaron is responsible for a large portfolio of small to medium properties which stretch from the CBD to various suburbs around Melbourne.
He has a strong customer service ethic and strives to exceed clients expectations. His award win was based on his strong customer service supported by a significant number of testimonials from Owners Corporation Chairpersons and from the contractors with whom he works day to day. At the presentation SCA Executive Director Rob Beck in announcing the award spoke of Aaron's client retention and his ability to integrate five new clients during the year.
When asked by the MC of the awards presentation what he enjoyed most about the role Aaron said "helping people".